Our sustainability policy demonstrates our commitment to a sustainable future and supports global initiatives to transition to a Net Zero, Circular Economy.
To turn our ambitions into actions we have developed action plans for events at Church House Westminster in collaboration with our clients and suppliers and has shared these with key responsible members of the team.
Sustainable event energy
Church House Westminster uses 100% renewable energy. A recent renewable energy certificate issued by Marble Power guarantees that 100% of usage supplied to the Grade II listed events venue between October 2021 and September 2023 has been purchased via Renewable Energy Guarantees of Origin.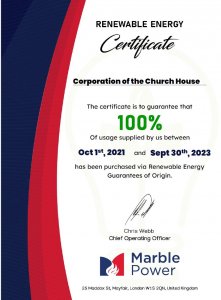 Other activities to support sustainable event energy:
We always recommend an event space of an appropriate size to reduce the requirement for heating or cooling.
We actively monitor the room temperature and reduce heating or cooling where possible. In the Winter heating is set to between 18 and 21 degrees and in the Summer between 24 and 26 degrees for cooling.
We do not prop open doors when heating or cooling is in operation, as this wastes energy heating/cooling larger spaces.
We use energy-efficient audio-visual equipment and recognise the need to power down unused equipment wherever possible, rather than leaving them on standby.
Church House Westminster has also made a net-zero commitment in lieu of COP26.  
Join the 'Road to COP 26 Event Sector Transformation', an initiative curated by Positive Impact which will provide support to at least 1000 SME's within the event sector to make a net-zero commitment and take action before COP26. The initiative is supported by SME Climate Hub (a member of the UN Race to Zero Campaign) and aims to support events SMEs to join the UNFCCC Climate Action Framework for Events. We're calling on our fellow venue peers to also participate.
For more information please get in touch with us via our contact form or give us a call on 020 7390 1590 to discuss your event.