World Wellbeing Week provides us with an opportunity to assess the actions we are taking to prioritise better mental health. Our Mental Health First Aiders such as Sue White have been instrumental in promoting positive mental health at Church House Westminster.
What has changed since 2020?
The onset of the pandemic led to a dramatic increase in the number of people dealing with mental health issues.  A recent workforce attitudes study found that 63% of people in the UK have missed at least one day of work due to mental health issues this year. The pandemic has also taught us a valuable new lesson: two-thirds of employees think work-life balance is more valuable than pay.
Taking these changes into account, we have embarked on proactive initiatives to build a healthy work-life balance, adopted in our mental health strategy.
Encouraging open communication, regularly checking with each other, normalising the conversations around mental health
Offering hybrid/ flexible working and achieving a work-life balance when working from home
Promoting taking breaks to rest and recharge, we call them 'mind days' for self-care
With the rise of current energy, food, housing, and transport prices, we recognise the enormous cost of living challenges some of our team may be facing. We are mindful of the link between financial worries and mental health and support our teams in organising their finances.
The picture now
For Word World Wellbeing Week we completed a Mental Health First Aid Score Card created by Stress Matters. Our overall score from the report was 62%. All areas scored (high) green (8-10), apart from Engagement which was a (moderate) amber (4-7). This showed us that we still have some way to go in
Ongoing training of our team
Raising awareness of our mental health activities
Embedding importance of mental health in team culture for engagement (52%)
Planning and updating our mental health strategy
In terms of improving engagement, we will explore the following two suggestions:
Putting in place a system for recording mental health first aid interventions.
Asking those who we know have struggled with stress and mental health and have not engaged with our MHFA programme, what we can do for them to consider engaging with the programme.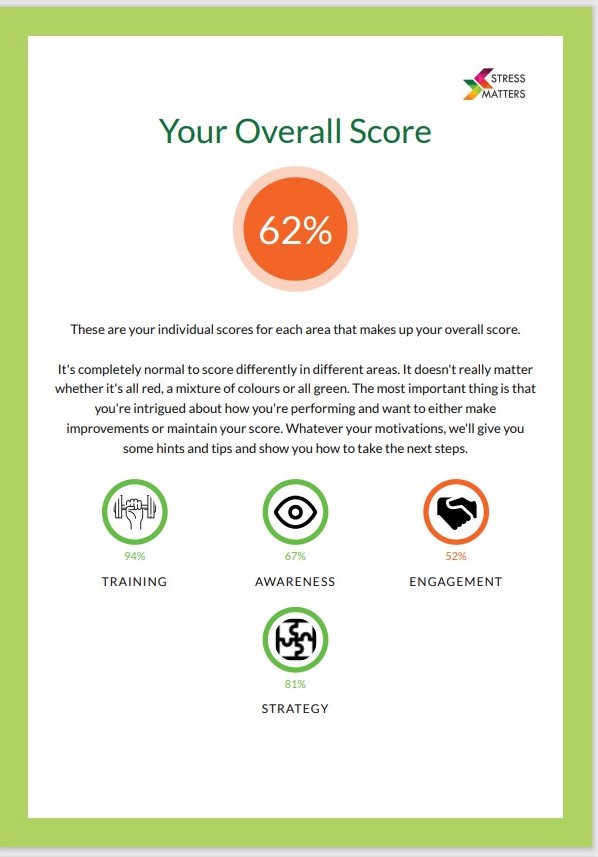 For more information please get in touch with us via our contact form or give us a call on 020 7390 1590 to discuss your event.